Understanding the challenges in the utility domain is vital in performing the digital transformation. The utility segment comprises indispensable services like gas, water, and power administrations. They keep the masses moving along as planned, and we scarcely notice. However, if things somehow managed to stop working, it would be an economic shutdown.
With a high volume of resources, from power stations, gas pipelines, power links to large equipment, monitoring their status securely and effectively on a continuous basis is a huge responsibility. This leads us to assess the need for a secured and effective digitally-powered business solution for asset management in the utility sector.
Utility asset management benefits organizations in many ways: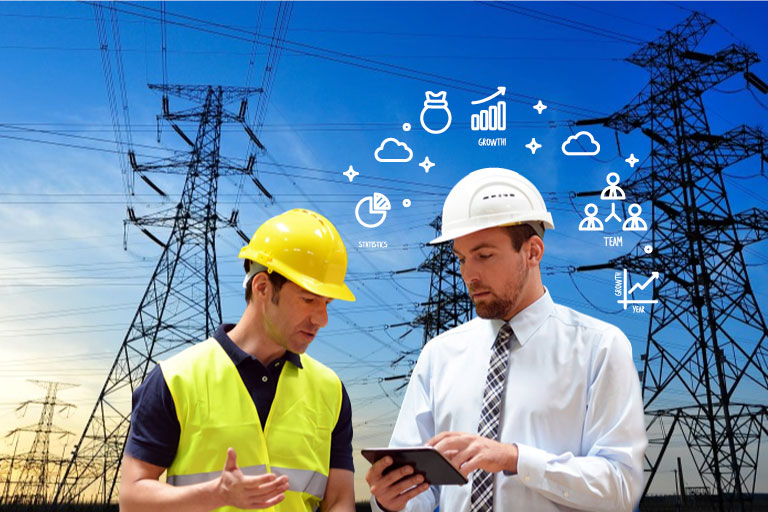 Field Staff Access Information in Real-Time
Real-time data is extremely vital for field officers as they can act proactively for support. One of the significant benefits of digital asset management in the utility domain is that specialists can continuously read and store data. Thus, managers, field workers, and colleagues can quicken the interaction and realize different things, like the state of the asset, asset area, frequency of resources being utilized, etc.
With the asset managing mobile application, field administrators can connect and access information distantly. It conveys that clarity of if they don't have real-time data, they need to work responsively.
Assets Are Tagged for More Productivity
With the help of asset management, the assets are labelled with GPS (worldwide position framework) chips, BLE (Bluetooth low energy), or IoT (Internet of Things). These labels are more powerful for real-time tracking of assets and field-based data and help anticipate when resources need checking and adjusting and drive benefits.
Utility Monitoring and Consumption Tracking
Asset management software can record everyday utilization. It permits managers to draw an everyday limit. This product additionally gives reports and examinations of utility consumption. These reports help discover a financially savvy way of saving utility consumption and help stay away from wastage or overuse of utilities.
Track Trends to Increase Return on Investment
Data is an incredible asset and can give a huge benefit whenever utilized successfully. By tracking assets, stacks of location insights and information are gathered. After this, managers can review that data and use it in discovering patterns that can give an extra edge for business development. Moreover, you can figure the profit from the venture (ROI) by monitoring support costs.
Conclusion: The Future of Asset Management in Utilities
We've fastened up that mobile technology and innovation greets an opportunity for asset development in the utility sector. IoT and asset management address an important development in the utility sector; the technology exists to monitor the utilization of assets and begin to anticipate when they need servicing, reduce setbacks, and bring down costs as maintenance is more useful than replacing the assets.
In addition, it saves time, using hours and abilities more proactively, and drives advantages that are important in handling the difficulties the utility sector faces. And the good news is, implementing asset management in the utility sector is the answer to everything.
Looking for Digital Asset Management Software?
Find the best asset management tools for utility operations at FieldOn.
Contact us to know more!